Little Learner Readers Stage 6
Product Code: LLRS6
There is nothing better than seeing a child discover the joy of reading. These beautifully illustrated Little Learner books enable children to read using their new knowledge of letters and sounds to decode text. They are carefully sequenced in 7 stages. Each stage is expertly levelled to support children as they move through the stages of learning to read.
Little Learner books builds on children's new knowledge gained from Milo's Birthday Surprise of letters and sounds which are used to decode text, enabling them to read. Each stage contains five stories, and is carefully sequenced to give children confidence and success.
The Little Learner stories in Stage 6 focuses on consonant digraphs - ck sh ch th ng
All books have fun, mischievous characters in a delightful story with a twist at the end.
The first book in Stage 6, Quack!, made the long list for Speech Pathology Australia's Book of the Year Award!
26. Quack!
This delightful story focuses on - ck. In this story there is a problem - a noise from a rock. What is it? Oh, it is Quack, the duck. Why does Quack keep coming back?
27. The Shed Shop
Focuses on sh. Tim and Pip clean up the shed for dad and end up selling most of the junk in the shed.
28. The Munch Bunch Fun Park
Focuses on words with ch. Feeling so rich after selling the junk in the shed, they go to the Munch Bunch Fun Park.
29. Thud Thump Thunk
Focuses on th. This book introduces the Smith twins who get up to quite a bit of mischief.
30. A Day in the Jungle
Focuses on ng. Tim and Pip explore their garden thinking it is jus
Price: $42
(LLRS6)
| | |
| --- | --- |
| SKU | LLRS6 |
| Shipping Weight | 0.3500kg |
Be The First To Review This Product!
Help other Phonics Australia users shop smarter by writing reviews for products you have purchased.
Preview of pages in this set
You May Also Like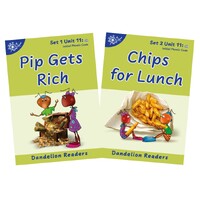 Product Code: DR4-5
Phonic Books Dandelion Readers
$120.00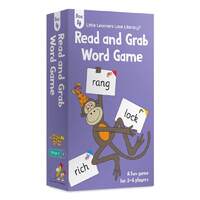 Product Code: MRG4P
Read and Grab Word Game - Box 4 Purple
$29.00
Product Code: DL12
Phonic Books Dandelion Launchers Units 11-15
$115.00
Others Also Bought
More From This Category
Product Code: LLRS5
Little Learner Readers - Stage 5
$39.00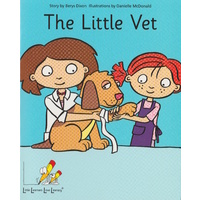 Product Code: LLRS4Plus
Little Learner Readers - Stage 4 Plus
$39.00 Product Code: LLRSPlus4-6
Little Learners Readers Stages Plus 4 - 6 Complete
$110.00