POCKET ROCKETS MINI BOOKLETS
Introduce a love of reading to your pupils with these daily reading booklets. The 18 booklets introduce the phonemes learnt at Phase 2 in a daily progression. Each booklet can be re-used in the classroom or given to a child to take home, and even has a space for them to personalise their book.
Each boxed set contains 10 copies of each book, that's 180 booklets for less than 20¢ per book.
Product Code: PRPH2
Pocket Rocket Mini Readers Boxed Set Phase 2
$39.00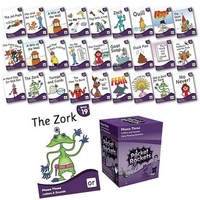 Product Code: PRPH3
Pocket Rocket Mini Readers Boxed Set Phase 3
$39.00
Product Code: PRPACK1
Pocket Rocket Parent/Teacher Pack
$29.00